Although the vast majority of online casinos are trustworthy, still a few bad apples spoil the online gambling experience for everyone. Many people have witnessed many casino scams. That is why we decided to tell you about a few of them today. At the same time, show you how to stay away from them.
What is the risk of rogue casino sites?
Scamming online casino sites can make your life a living hell. In the worst-case scenarios, it goes far beyond simply losing a deposit. Unfortunately, some very bad people run these rogue casinos. As you can see, these online casino con artists target you in a variety of ways. Moreover, at the end of the day, they are all set to steal your hard-earned cash.
Scams in online casinos can range from rigging the house edge to stealing your data. Yes, it may appear frightening. However, if you understand how these schemes are operating, then, you will not be taken advantage of! You simply need to know what to look out for to stay safe.
Playing in an online casino has its benefits. Moreover, there is nothing better than being able to win some money while in the comfort of your own home. With online casinos, you can play your online casino games free, anytime, and anywhere. You can still play whether you are at the comfort of your home, while commuting, or taking a break from your work. The possibilities are limitless, which is why online casino games are gaining popularity on a global scale every year.
Despicable Online Casino Scams
Online casino scams in Roulette? The growth of these casino games is remarkable. That is why more countries are beginning to recognize the industry's economic benefits. However, the expansion of online casinos comes at a cost to online security. Yes, the variety of new online casino sites available to players is fantastic. However, it also means that there are some dishonest sites out there looking to steal money from players through a variety of tricks and frauds.
As we always said, before deciding on an online casino, there are a few important factors to consider. This entails conducting research and keeping an eye out for warning signs.
So, what are the most common online casino rip-offs? How can you stay away from them? Grab a cold one and settle in while I show you around!
Casino Scams #1. Straightforward Casino Deposit Theft
By far, outright casino deposit theft is the most common type of online casino rip-off. It is the endgame of most online casino scams. However, rouge casinos are executing them in different ways.
Deposit theft or deposit thievery is exactly what its name implies. First, the scamming site will entice you to make a deposit. Then, they will prevent you from withdrawing your funds.
Online Casino Scams: How do they do it?
It is very simple, first, you sign up then, register. After that, the casino either closes or freezes your account. These scamming sites will require you to jump through a series of hoops before you can reactivate your account. In addition, when you try to reach out to their customer service to get answers, the customer service staff will only drag you along or ignores you.
Which is somewhat frustrating on your part, right.
These operators understand that if the deposits are small, most people will become frustrated and give up.
How likely you to chase down a $20 are deposit for days or weeks?
 After all, time is valuable. Therefore, cutting your losses at some point is always a good idea.
The more cunning casino site will try to win your trust by making a series of small deposits and withdrawals that go off without a hitch. Once you've given them your trust, they'll lure you in with a huge reload bonus offer.
What will happen if you accept it?
They close your account, then, put it on hold. Just like earlier, they will either give you the runaround or simply ignore you.
On the other hand, larger deposit thefts will enrage the majority of players. These players will be highly determined to recover their funds. Alternatively, they will make the casino pay with reputational damage. As a result, these online casinos don't last long. Thus, casino operators are forced to shut down sites. Then, they will relocate to other offshore jurisdictions and relaunch new brands to continue the scam.
So, how can you avoid falling victim to these online casino rip-offs?
Before you decided to sign up for an account in a casino, you must make a thorough research first. You can start reading casino reviews or check the casino website first. Look for any of the following accreditation at the bottom of their home page. A legit and reliable casino site displays the logo of the gambling commission and testing authorities. This helps assure you that the casino site is regulated and running fairly.
eCOGRA
Malta Gaming Authority (MGA)
Alderney Gambling Control Commission (AGCC)
The British Gambling Commission
Curcacao eGaming Licence
RNG Certification
 Also, watch out for the warning signs listed below:
Unreasonably high deposit or reload bonuses
On the casino website, there is no clear information about the operator.
In the fine print, there are some manipulative terms and conditions (which you should always take at least five minutes to read)
Casino Fraud #2: Rigged Games
This casino gambling ruse is fairly straightforward. Scamming casino sites run rigged games that allow you to win for a short time before draining you of all your money. All it takes is some good old-fashioned rigged software.
Most people who play online or work in the online betting industry are familiar with the scam casino software companies that create rigged games. For once, respected casinos do not work with them. In addition, respectable casino software companies do not work with them either. This is crucial to remember because it is the first step toward avoiding rigged games.
You are likely dealing with a legitimate online casino if they feature these major casino software providers:
Microgaming
Playtech
NetEnt and other major casino software providers
Sadly, scamming casino operators are offering pirated versions of otherwise legal games. They are cloning the original games with a tweaked code to cheat you. Also, they are much more difficult to spot for the untrained eye. In which, newbie players often fall out victim.
Online Casino Scams on Online Slots
Legitimate online slots have an RTP (Return to Player Percentage) that suggests how much of the money the slot requires will be returned to players in winnings throughout the game's lifecycle. This is usually between 88 and 96 percent of the time.
Rigged slot games are created in such a way that the player either loses all of the time or loses frequently enough to tempt them to keep playing until their funds are depleted.
Thankfully, these games aren't as common as they once were, but it's always a good idea to avoid any game that appears to be "too good to be true."
So, how can you tell if an online casino is legitimate or not?
To begin, trust your gut instincts. Also, other red flags point to a rogue casino such as the lack of a valid online gaming license. Moreover, if you notice that the casino does not display any logo of the licensing authority, then this could be a bad sign.
Second, rely on the advice of experts. Many review sites analyze and inspect online casinos.
Finally, you could send an email to the software company directly. Then, inquire about whether or not this casino is operating legally. If something isn't right, they'll usually tell you pretty quickly. Allow them a few business working days to respond.
With the rise of Provably Fair casinos, the days of rigged and pirated games may be numbered. They do, however, still exist today, so choose your sites carefully to avoid falling victim to an online casino scam.
Online Casino Con #3: Ransomware
Let's assume you are logging into a new casino with a credit card in hand. Then, you follow the instructions to download the app or desktop client. By doing so, you will be able to get an extra-large welcome bonus. Plus, you will also receive some free spins on your favorite slots. Of course, you feel lucky with the lucrative casino bonuses you receive from them. So, you will go ahead and download the software and install it.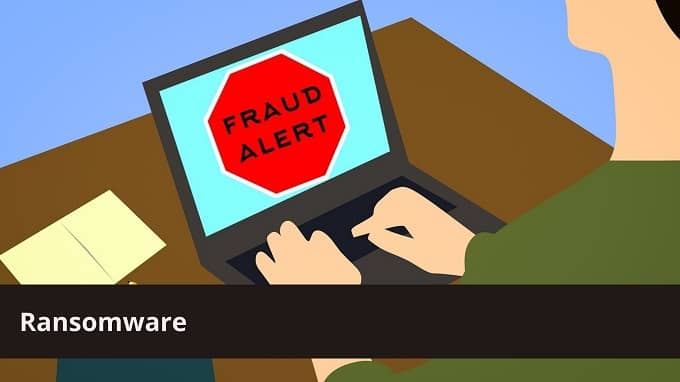 Sadly, after installing the application, your monitor goes black, or your phone locks. Crappy, right. Thus, the only thing you can do is sign and tap some buttons or click your mouse. However, instead of reloading the casino, the following message appears on your screen:
"JokerX123 has restricted access to your device. We now own all of your documents. Send 1 Bitcoin to 1AUvLXqvW4NqV62SH151M5iY7sp1SuDsZu within 24 hours to reclaim your device or all of your files will be destroyed: 1AUvLXqvW4NqV62SH151M5iY7sp1SuDsZu."
You laugh, sit stunned, and look for the close button, which isn't there. You've been infected with ransomware, and most computer security experts will tell you there's little you can do. You have the option of either abandoning the device or paying the fee.
If you believe this is science fiction, you are mistaken. In 2017, the Wannacry ransomware worm wreaked havoc on Windows computers around the world, affecting as many as 200,000 computers in different companies around the world.
Online Casino Scams in SG?
Fortunately, casino ransomware attacks are not on this scale today. However, they are still serious and can demand a lot of money. I've heard that untraceable cryptocurrencies in the $1,000 range are in demand. Many people will pay that amount to keep their valuable photos and files accessible.
You can avoid ransomware attacks and other online casino scams by refusing to download software and apps. You need to be sure they are from reputable companies before downloading and installing them on your device. Also, you can habitually play mobile flash casinos or instant-play versions directly from your web browser.
This may not be as convenient as a casino app. However, given that this casino scam can ruin your technology, you must weigh whether the added convenience of an app is worth it.
Casino Con #4. Theft of Your Personal Information and ID
Many people believe that online casinos are a scam. Simply because identity theft has become a global problem in recent years. Identity thieves have stolen $107 billion in the United States alone in the six years leading up to 2017. That's a significant sum of money. Thus, stealing personal information and ID can have far-reaching consequences for victims beyond financial losses.
Furthermore, identity thieves often run online casino scams. Then, they will sell your personal information and data on the black market. Also, they are either scammers themselves or a conduit for information purchased by scammers. In any case, they're criminals, and you should avoid them like the plague.
They can accomplish this in a variety of ways:
To begin, they can pose as a legitimate casino. Then, allows you to play games to avoid arousing suspicion while selling your registration information in the background.
Alternatively, after you make a deposit, they can freeze your account. Then, requires you to upload an ID document and proof of address.
Finally, they may directly steal your personal information and card details to create cloned credit cards. Although, it may not appear so when the charges appear on your account. Also, this is the least severe of the three possible scenarios. To avoid this, you should consider using other payment methods on gambling sites.
Online casino scams in Singapore?
Experienced players know that even legitimate casinos will ask you to upload documents. Then, confirm your identity after a while which is why these online casino scams work so well. It doesn't appear to be a big deal because they have to do it to comply with Know Your Customer and anti-money laundering regulations.
The only way to avoid this is to make certain you're dealing with a trustworthy online casino in Singapore. And at some point, you will have to upload your documents. As a result, your only defense is to make sure you're not dealing with a shady offshore casino run by criminals.
Fortunately, data protection laws are strengthening in the United States, Europe, Australia, Singapore, and other countries. Then again, stick with gambling sites based in countries that severely punish data mishandling to avoid online casino scams.
Online Casino Fraud #5: Failure to Pay Casino Winnings
Refusal to pay your casino winnings can be the most heartbreaking casino scam among the others. Because it crushes your hopes and dreams after they have already come true. It goes like this: you win a jackpot or a large bet. Then, you try to cash out. However, the casino refuses to pay your casino winnings. They will go silent and refuse to respond to your emails and phone calls. Alternatively, the rouge casino will contact you to inform you that a hidden clause on page 15 of the terms of service allows them to refuse to pay.
Don't be surprised because these things happen. Some of the well-known online casinos and brands are engaged in such deception. How were casino scams caught?
Casino Scams: How is a rouge casino going to get away with this?
Simply, because it is specifically stated in the terms and conditions, which you agreed to when you signed up. It may sound cold to you, but it's a legal fact. Thus, scamming online casinos can get away with it in certain jurisdictions.
The only way to avoid these con artists and their online casino scams is to do your research. Also, make sure you are dealing with a reputable gambling site in Singapore. When players win big, some of them write blogs and news stories, which is one sign that they can be trusted.
Furthermore, you can also take the time to read the important points of the terms and conditions before signing up for an account. In addition, pay special attention to the sections on "terms of use" and "deposits and withdrawals" or "banking."
What Can I Do to Stay Away From All These Online Casino Scams?
How can you avoid being a victim of one of these casino scams if you want to join an online casino? Fortunately, sticking to trusted online casinos that have been rated, reviewed, licensed, and regulated in the country you are playing from is the easy part. Here are the things to remember to avoid falling victim to these scams.
Never play at a casino that isn't regulated or licensed in your home country.
Never download anything unless you are certain it is from a reputable source.
Look into what other players and reviewers have to say about a particular casino. The more credible and reliable sources you can find, the more likely they are to be genuine and trustworthy.
Stick playing with the big and top names in the casino gambling industry.
Do not rely on third-party apps or downloads.
Do your homework on the casino you want to play at. Examine their credentials for licensing, as well as the jurisdictions in which they operate. Any casino that is regulated offshore should be avoided, especially if it is a newcomer.
Remember, if something appears to be too good to be true, it most likely is!
Casino Scams FAQs:
Scams in online casinos exist and pose a serious threat, particularly to unsuspecting punters who have not taken the time to familiarize themselves with a particular venue. You risk having your deposit taken away, having your identity stolen, becoming infected with viruses through various downloads, and more when you use such casino sites. Always ask questions and stay away from shady casinos.
Both players and auditors have subjected each of Singapore's top-rated online casinos to thorough scrutiny. They have the necessary stamps of approval from a major licensing organization, as well as enough positive feedback from the audience, to make you feel confident in your decision. Also, do not forget to do your research always.
The infamous Roselli Brothers hold the record for the most money stolen in a continuous-time, with nearly $40 million. They did so by stealing the identities of hundreds of innocent people and their perfect credit scores. Then, they opens the casino accounts in their names at various casinos across the United States.